Sugar Land Car Accident Attorney
Our Texas Firm Has Been Helping Injured Clients Since 1990
If you've been seriously injured in a car crash, now is the time to involve a Sugar Land car accident attorney. Although you may not need a car accident lawyer for an insurance claim resulting from a minor fender bender, a serious collision requires equally serious legal counsel.
At The West Law Firm, we understand the serious nature of an automobile accident. Insurance companies are not looking out for your best interests, which is why it is important for you to call an experienced injury attorney before accepting a settlement offer.
Our legal team offers free, initial consultations and works on contingency fee-bases - meaning we don't get paid unless you win!
Why Hire The West Law Firm?
Hundreds of Millions of Dollars Recovered
20+ Years of Legal Experience
Nationally Recognized & Award-Winning
If you are looking to recover fair compensation for your injuries, then it's important for you to contact us. When it comes to accident claims, time is not on our side. The sooner we can start gathering the evidence and strategizing your claim, the better our odds of success.
---
Give us a call today at (281) 277-1500 and schedule your free, no-obligation car accident case evaluation today!
---

What is the Car Accident Statute of Limitations in Texas?
How long do you have to sue after a car accident? In the state of Texas, you have two years to file a personal injury claim. With few exceptions, the statute of limitations begins the day that your crash occurs. If you fail to file a claim within this timeframe, then you lose your opportunity to file a claim and pursue compensation.
Clearly, time is not on your side. If you have been seriously injured in an auto accident, then it is important to contact an attorney as soon as possible.
Experienced counsel can help you gather the evidence needed to prove liability and create an effective strategy to recover maximum compensation for your injuries. Do not delay - contact The West Law Firm today to arrange a free, initial case evaluation.
What To Do After a Car Accident
Everything you say and do from this point on may impact your claim and your ability to recover the money you need to rebuild your life. As such, we have a few helpful "dos" and "don'ts" to remember if you are involved in an accident:
DO remain at the scene to exchange information with the other driver. It is against the law to leave the scene (unless you are in need of emergency medical attention).
DO take note of the circumstances surrounding the accident. Taking notes and pictures can help you remember key information.
DO get the information of witnesses, law enforcement officers and others at the scene. This may prove helpful in your case later on.
DO seek medical attention, even if you feel you are not seriously injured. Neck and back injuries, which are common in car accidents, may not present themselves immediately. A medical professional will know what to look for and can help.
DON'T say the accident was your fault. Even if you think you may have been to blame, another factor could have caused the collision. Taking the blame could negatively impact your case.
DON'T hesitate to call an attorney if you or a loved one have been seriously injured. A legal professional can help you seek full and complete compensation.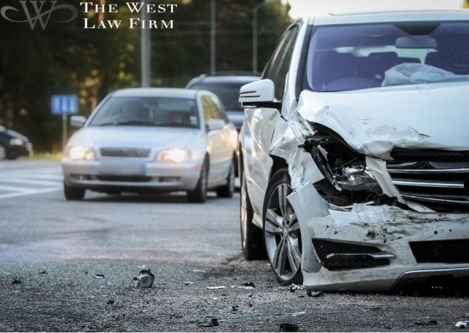 Taking the right steps directly following an accident will greatly improve your chances of recovering maximum compensation.
At The West Law Firm, our legal team has multiple decades of experience and have won hundreds of dollars in verdicts and settlements.
If you are looking to file an injury claim, please do not hesitate to call our firm today and arrange a free, initial case evaluation!
Auto Defects and Car Accidents
The most common causes of car accidents in the United States are:
Texting while driving
Speeding
And other types of driver negligence
But what about defective auto parts? Dangerous or defective motor vehicles and their parts can not only cause accidents but can contribute to catastrophic injuries or fatalities resulting from collisions.
A defective airbag or seat belt, for example, could turn a minor crash into a disaster.
What Are the Most Common Injuries & Damages in Car Accident Cases?
Unfortunately, car accidents are a frequent occurrence and often result in injuries, great and small. A few of the most common include:
Injuries to the knees, shoulders, neck, back, and head, including sprains, concussions, and more
Bone fractures and breakage
Permanent scarring of the skin
Wrongful death
How Long Does It Usually Take to Settle a Car Accident Lawsuit?
There is not a set timeline that all accident cases take to resolve as each case varies based on its severity. If a case has large damages, uncompliant parties, complicated witness matters, or serious injuries involved, it may be on the longer end of resolution, whereas less intense cases are usually on the shorter end of time to settle. Car accident cases may take anywhere from eight weeks to a couple of years to settle.
Are Settlements Taxed?
Your settlement may or may not be taxed depending on the situation. The reason for a taxed settlement is usually that the money collected for your damages is viewed as a form of income, resulting in taxes. It will be important to take this into account when hearing your settlement amount.
Get in Touch With Our Sugar Land Firm
At The West Law Firm, we handle all types of product liability lawsuits related to auto defects. We have gone up against some of the biggest names in the automotive industry, including General Motors and Toyota, to fight for our clients.
We are the only firm in Texas to handle the first two multidistrict litigation cases involving defective auto parts and represent clients in these matters across the country.
---
You are always welcome to call a Sugar Land car accident attorney at our offices at (281) 277-1500 to talk about your specific case, questions and concerns. Contact us today, consultations are free!
---